HOW IOS 17 IS MAKING VOICEMAIL A THING
POSTED SEPTEMBER 27, 2023
BY: BETH GEORGE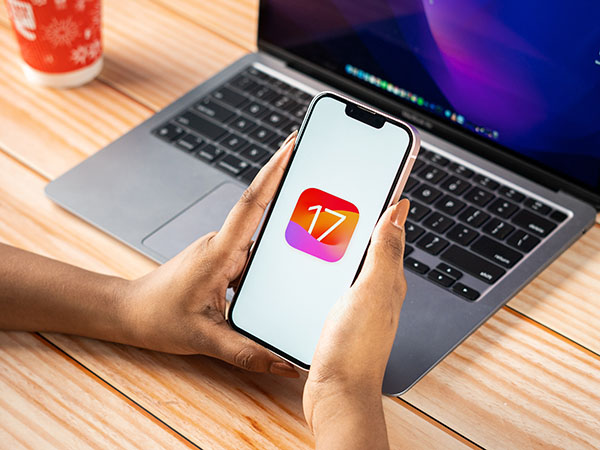 In September 2023, Apple announced an exciting feature to their iOS 17 software for mobile devices. They are making voicemails front and center to the user experience from the home screen. While their core feature update allows a recipient to see a transcribed voicemail in real time if they enable it, here at slybroadcast, we are excited about what the future has for voicemail communication.
How big is Apple's iOS mobile phone reach, and why is this change significant? Why is this feature so important for organizations to know about? How does ringless voicemail help reach younger demographics more effectively than traditional cold call outreach? Do organizations need to do anything different to enable slybroadcast to work with iOS 17?
Here is the complete breakdown of iOS 17 and how voicemail communication is more of a thing than ever before!
How Big is Apple?
According to GS Stat Counter, Apple is the worldwide leader in smartphone market share, with 29% as of August 2023. Apple also has over a 56% market share in the United States, which means they are the most dominant mobile vendor worldwide and in the United States. That means that if you are trying to reach your audience through their smartphone, chances are they are using an iPhone.
So, when Apple decides to announce something new with their software, people and industries react due to the reach. In this particular release, voicemails are getting the preference and spotlight.
How Does iOS 17 Make Voicemail More Popular?
By making the voicemail experience central to the iOS 17 update, it will become more prominent simply due to the reach of the iPhone domestically and worldwide. As more and more users utilize the latest software updates to transcribe, listen, and call back voicemail messages, voicemail will become bigger. Therefore, if you are an organization who wants to reach your audience in bulk through voicemail, you'll need to use a provider.
That is where slybroadcast comes into the picture with our ringless voicemail technology.
The Importance of Ringless Voicemail with slybroadcast
Ringless voicemail is effective for organizations to reach their audience in multiple ways. First, it is non-intrusive, which means getting a ringless voicemail doesn't ring that person's phone. Therefore, the recipient can listen to (or read) that voicemail when they have time and not feel put on the spot when their phone rings to answer it.
Second, our technology allows you to reach thousands with a click of a button. As more and more people start using voicemails with the new iOS 17 update, voicemail will become more prominent in their lives.
Third, our ringless voicemail technology is getting an important upgrade option in 2023. That update is artificial intelligence. The AI ringless voicemail feature will input the recipient's name directly into the message, which means the voicemail becomes personalized. Therefore, when that recipient listens to that voicemail or reads the transcription, their name will appear in the message, leading to a more personalized experience.
Voicemail's Reach to Younger Demographics
If your target audience is 22-37, you know how difficult it is to reach them through cold calling. According to a study from the EU Business School, 1,200 respondents between 22-37 hardly pick up their mobile phone when it rings. The reasons for not picking up the phone varied due to time consumption, being put on the spot, and the trend towards texting and other similar platforms as their go-to way of communicating. Even further within this study, most users felt they needed to mentally prepare themself before making a phone call, let alone answering one.
One way to get around the phone ringing is to use slybroadcast. Slybroadcast's ringless voicemail technology does not ring their phone. It simply places a voicemail into their inbox to listen to when they are ready. This (non-ring) is critical for an audience that prefers to avoid picking up the phone when it rings.
Do I Need to Do Anything Different with slybroadcast and iOS 17?
Slybroadcast is compatible with iOS 17, so you don't have to do anything different with your campaign! Just as you had it before, messages, tracking your results, integration with other platforms, and more will continue to work the same way. The ringless voicemail message will go straight to the person's inbox without any transcription so they can listen when ready.
Isn't that easy? We thought so, too!
Conclusion: iOS 17 Making Voicemail a Thing
In summary, the new iOS 17 feature excites us at slybroadcast. For one, Apple iOS mobile phones are the leader worldwide. When they make a change, everyone responds. Since they are enhancing the voicemail experience with this update, voicemails will get much more popular as more people start relying on voicemails to communicate with each other.
Second, at slybroadcast, we continue to offer the same great experience for our customers and recipients. For organizations, the campaigns work the same way. You can reach your audience in bulk directly with a message and use our new AI feature to personalize each message. The ringless voicemail won't be transcribed live for recipients, so there won't be any disruption to their day when the message comes in. The user can still listen to the message (or read it) when they are ready and call back that number.
Similar Posts